The SLO Food Bank's Hunger Awareness Day is a countywide event to inform our community about the devastating effects of hunger in SLO County and to raise funds to support the SLO Food Bank's hunger relief efforts.
Become a Hunger Hero today and join us in the important mission to alleviate hunger for our neighbors in need. Transforming into a Hunger Hero is simple and has a tremendous impact!
1. Donate today!
One dollar equals seven nutritious meals!
2. Create a fundraising page for yourself, your business, or your squad!
Customize your page, set your own goal, and share it with others across a variety of platforms! Tell the world why hunger relief matters to you.
3. Leading up to June 4th, join your fellow Hunger Heroes at different events and fundraisers throughout the County.
See more information on our calendar of events!
4. On Friday, June 4th, visit us at locations throughout SLO County!
Stop by our donation sites as we educate the public and collect vital funds to provide food and peace of mind to our neighbors in need. Visit our calendar of events and stay tuned for more updates. More details will come soon!
Follow us on Instagram and Facebook @slofoodbank for the latest updates on Hunger Awareness Day!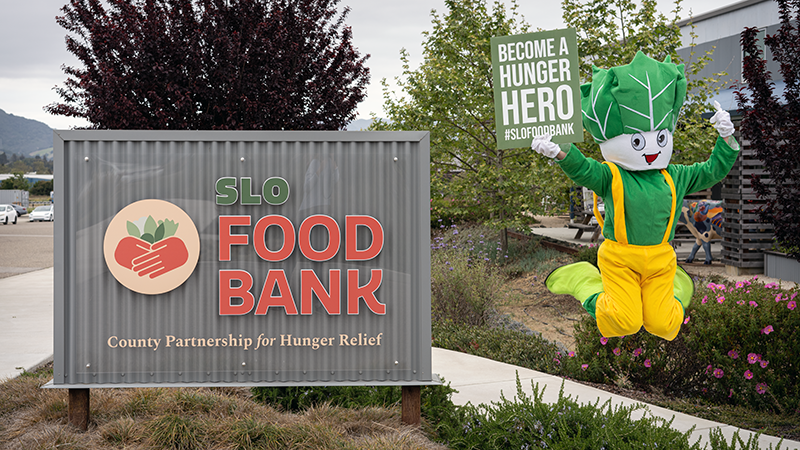 Let's Feed SLO County. Together.

The SLO Food Bank believes everyone has the right to nutritious food. With reliable access to wholesome and delicious meals, we are all healthier, happier, and more productive members of the community. Our mission is to work with a network of community partners to alleviate hunger in San Luis Obispo County and build a stronger (and healthier) community.
Visit slofoodbank.org to learn more about our hunger relief efforts.